"Judge a man by his questions rather than by his answers.": Voltaire 
Question is defined as a sentence or phrase used to find out information, insight or intelligence.
We may have all experienced this. You are checking out of a hotel room after a few days' stay. The lady at the checkout counter politely asks you ' 
How was your stay? ' And this question seems not to have changed over the years across time zones and continents. And in most cases, a polite yet non committal answer evolves  ' It was good ' (even though the stay may not have been).
What if (question?) we are asked ' What could we have done to improve your stay with us ? ' . The energy and the dynamic changes completely. Rather than go on auto pilot mode and offer the default response, you are buoyed by the keenness of the hotel staff to improve the guest experience and you end up offering honest feedback. The answer may not give them exactly what they want to hear. But it will give what's valuable for them to learn.
As the old proverb goes ' Better to ask a question than to remain ignorant '.
What if Obvious Questions collide with Contrarian Answers? It's a discussion worth having. When smart, committed people disagree about the answer to a question, it's a question worth pursuing.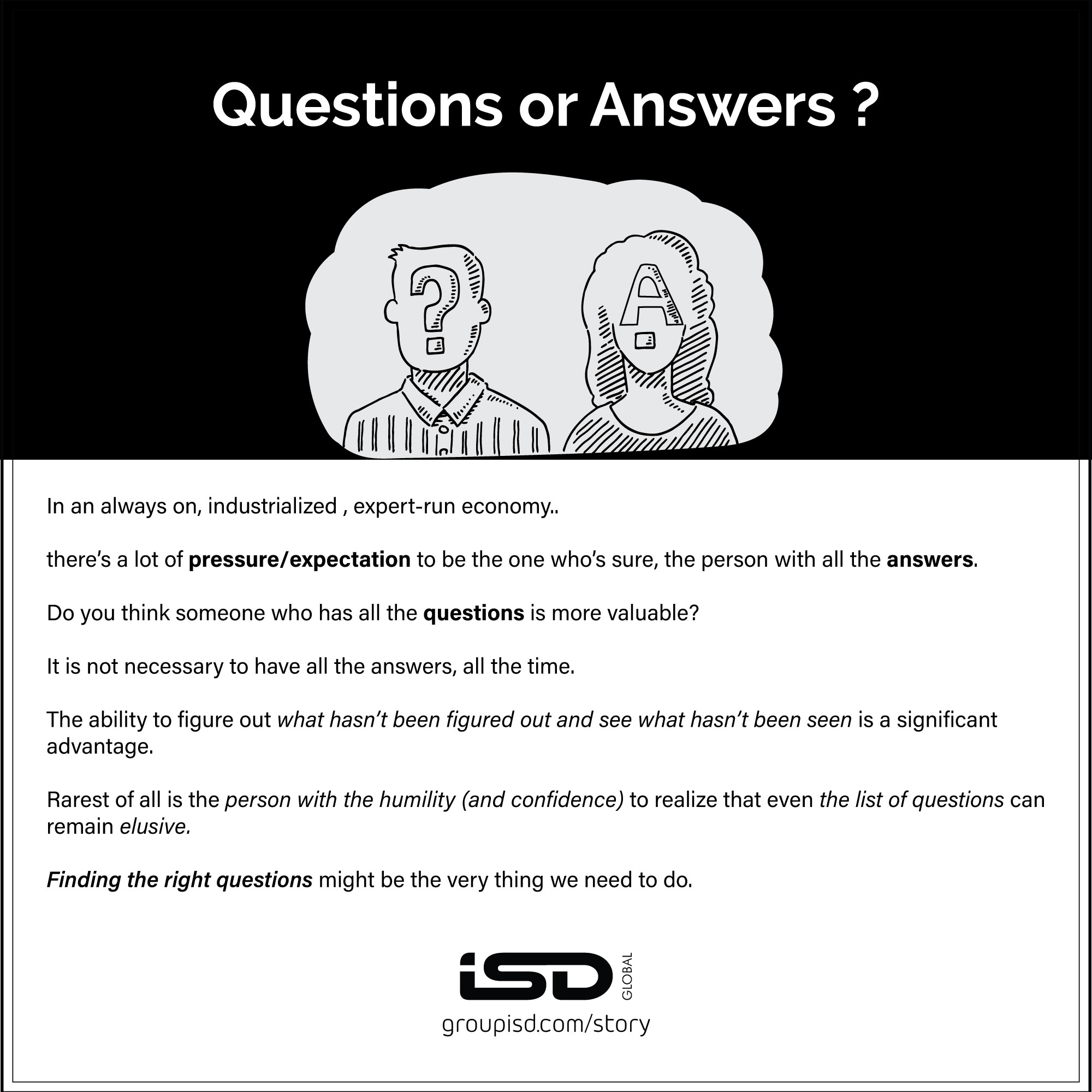 Progress or outcomes? There is no toss up- its got to be progress.
Ditto with questions.
HR reviews could have better progress and responses if employees are asked ' What challenges are you facing now ? ', as that question presumes that challenges are the norm, not the exception. Rather than ask ' Are you facing any challenges?' , when most will say no. They might fear that their admission will be seen as a weakness.
Good insights, contrary to popular wisdom, don't come from a smart answer. They come from a smart question.
" We awaken by asking the right questions. We awaken when we see knowledge being spread that goes against our own personal experiences. We awaken by seeking answers in corners that are not popular. We awaken when we see popular opinion being wrong but accepted as being right, and what is right being pushed as wrong "- Suzy Kassem
ENDS