Does this article caption seem like sacrilege? Especially in the context of all the cacophony of narratives that float around viz Customer Service, Customer Delight, Customer Centricity, Customer Experience, Customer Journey...and all of that and more.
Over time, we have transgressed(not so effortlessly) from mass to mass customisation to personalisation to customer segment of one. And somewhere in between there is the Long Tail effect as well that encourages more granularity when it comes to addressing customers.
The phrase " The customer is always right " was originally coined in 1909 by Harry Gordon Selfridge, the founder of Selfridge's department store in London.Business was different, expectations were certainly so and organised retail was only at the embryonic stage. This line is typically used by businesses to convince customers that they will get good service at this company and convince employees to give customers good service.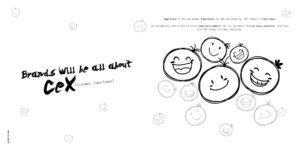 Of course, there are plenty of examples of bad employees giving lousy customer service( the United Airlines incident last year involving a passenger last year stands out like a sore thumb) but trying to solve this by declaring the customer "always right" is counter-productive.
CEO Hal Rosenbluth(owner of Rosenbluth Corporate Travel, since acquired by American Express) wrote an excellent book about their approach called Put The Customer Second – Put your people first and watch'em kick butt. Rosenbluth argues that when you put the employees first, they put the customers first. It's a chain reaction, often overlooked by organisations and brands.
In his book Customer Centricity, Peter Fader(Marketing Professor at Wharton & Co-Director,The Wharton Customer Analytics Initiative) encourages business owners to focus on the customers who matter most: "Not all customers deserve your company's best efforts. And despite what the old adage says, the customer is most definitely not always right. Because in the world of customer centricity, there are good customers…and then there is everybody else."
To borrow the experience that Tim Ferris(author of the wildly popular The Four Hour Work Week book) where he realised he was spending far too much time attending to customers who were contributing very little to revenues but causing high amount of stress, only to recalibrate his energies and attention to customers that warranted it best.
Haven't we heard this before: "The customer is always right, except when they're wrong—and then, it's our fault".
A more balanced way of looking at it would be to respect the customer, as it's not about who's right; it's about what's best for your company and the customer together. It takes two to tango.
Another example was when Toblerone changed the shape of their iconic chocolate bars, customers went absolutely bananas. It wasn't that the new shape of the bars was bad, per se. It was just different, and people HATE different. Customers like to maintain the norm.The status quo, be in the comfort zone..
When you make changes in your business, you will probably get some initial backlash, even if the change that you have made, is for the better. If you have the attitude that the customer is always right, you'll never make healthy improvements to your business because the possibility of bad customer feedback will paralyse you.
Needless to say we all need to strive for excellent customer service, or delight or experience as the case may be. But, adopting a ' Customer is always right ' policy can end up actually hurting your business. You kill employee morale, empower rude customers, slow down innovation, and even create unhappy experiences for other customers.
A much better strategy would be to empower your team to make the right decisions. And, that would translate to" The Right Customer is Always Right ". That's a much better place to be.
ENDS
Image: ISD Global
www.groupisd.com
www.brandknewmag.com