We have galloped on from an industrial economy to that of knowledge and intelligence(artificial & otherwise). Getting ahead is an industrial age concept. Based on scarcity, lack of access, secrecy, connections etc.Everyone can't be first (the thinking goes) so you better work harder, make do with helping fewer people, and look for shortcuts if you want to win.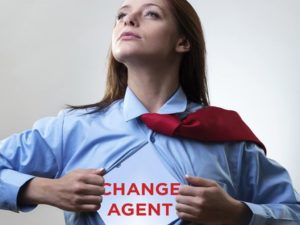 Today, we live in an always on,connection, collaboration sharing economy, in a long-tail world where being remarkable is far more important than being normal, where mattering is what matters and what we ideally seek. But the void is still there. It's a gap between where you are and where you could be. Where you desire to be. A gap between the impact you can create and what you've been able to do. Mostly, it's a gap between you and the change you can contribute to those around you. As they say, what got you here, won't get you there.
To propel from your present state, to being a ruckusmaker, a toastmaster, a change agent, a denter, a doer, an enabler. A person who notices, who seeks change and, above all, a person that leaps. Takes the power in her hands, to assist the powerless, the privilege dark community. (Read how 3 designers from Ideo.org are trying to fix the refugee crisis in this BrandKnew article here http://www.brandknewmag.com/from-ideo-org-3-ways-designers-can-help-fix-the-refugee-crisis/ )
To have the spirit to care for the have not. Lets walk the torque. Devoid of the void!
ENDS
Image: Plays In Business
www.groupisd.com
www.brandknewmag.com